REASONS WE LIKE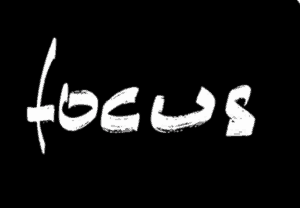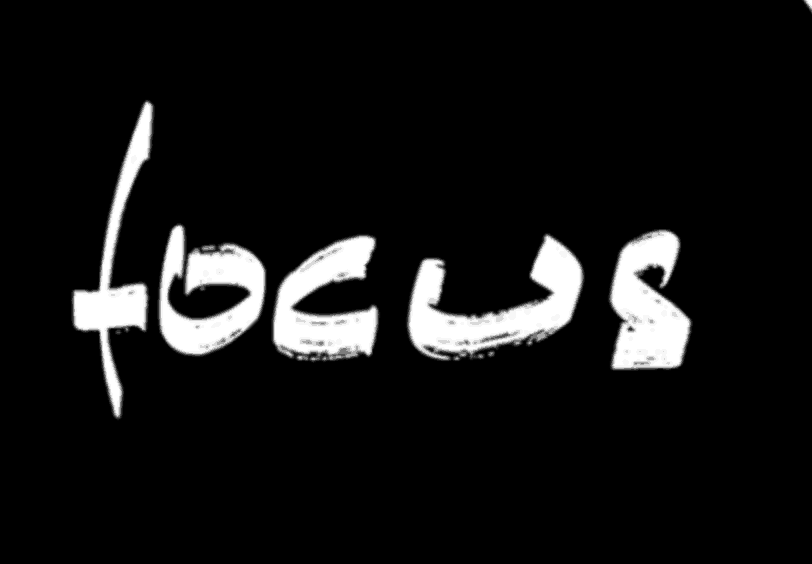 Focus Stoves, imagining the future for 50 years
For Focus, design is the expression of the tension between poetry and utility, between art and functionality, between emotion and rationality.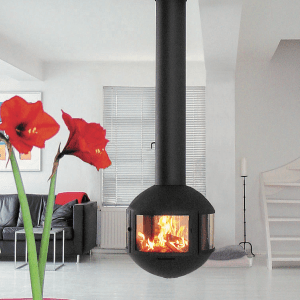 Agorafocus
A discreet best-seller, this cleverly crafted model can be suspended so that its direction is adjustable, or it can be fixed on a base. It is designed with a glass-panelled fireguard so the fire can be viewed from all sides.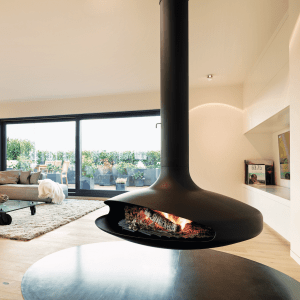 Gyrofocus
This seminal design was the first suspended, 360° pivoting fireplace. Its ease of installation, made-to-measure flue and its heat efficiency have all contributed to make this fireplace the signature model and symbol of Focus.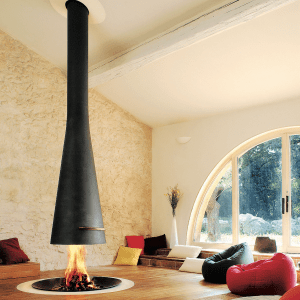 Filiofocus
With an innovative telescopic system that allows the hood to be drawn down to close off the hearth, the Filiofocus marries function and refined style.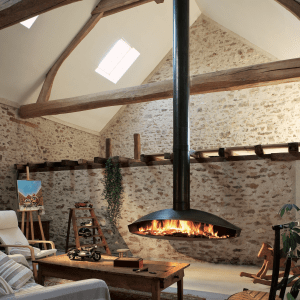 Antefocus
This seminal model was initially designed to pivot and became the prototype for the Gyrofocus in 1968 and the springboard for the entire Focus range.
The Antefocus is still built to order (by hand), in polished raw steel with visible welding seams.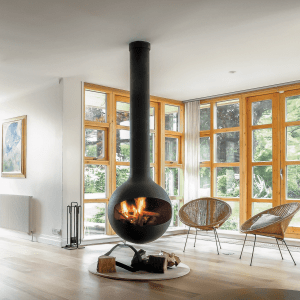 Bathyscafocus
With a nod towards the sea, this round, compact fireplace is a serene, discreet yet warm presence, pivoting so the fire can be turned to any point in the room. The model also comes in a porthole version with a closed hearth, which provides excellent thermal efficiency.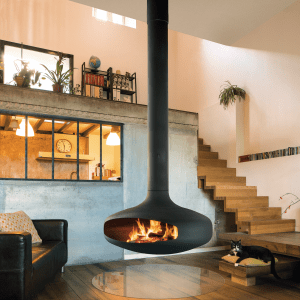 Domofocus
The younger sibling of the Gyrofocus, the Domofocus is smaller but has a noticeably larger hearth opening.
With its generous smile, it makes a traditional or contemporary space more welcoming.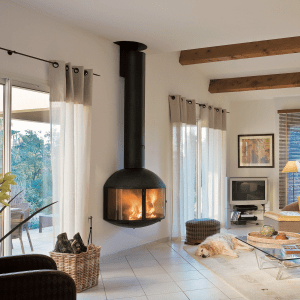 Edofocus
Vying with its older brother, the Gyrofocus, the outdoor Domofocus has a more slender, feminine shape and a wider smile.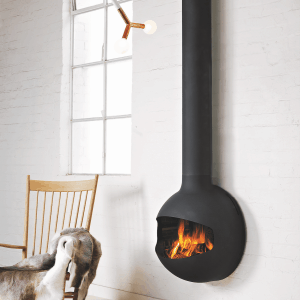 Emifocus
This personable version of the Emifocus brings a human element to fire. These models have the talent, the spirit and the efficiency necessary to satisfy, safely, the most demanding of owners.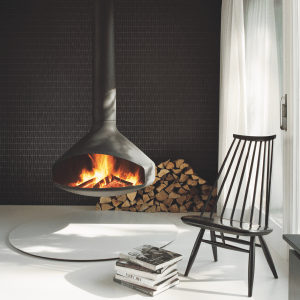 Ergofocus
This suspended and pivoting model is a response to this wish. Its pure, elegant shape is not only perfectly proportioned, but
maximises heat efficiency. The graceful flue is built to measure for the space.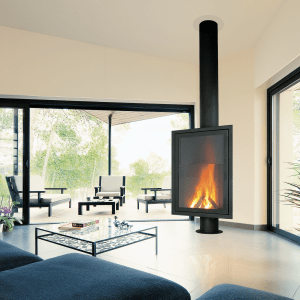 Eurofocus
Audacious yet sober, this expansive fireplace proudly displays its flames in their full splendour. This model is enhanced whether placed centrally in a room, in a corner or against a flat wall.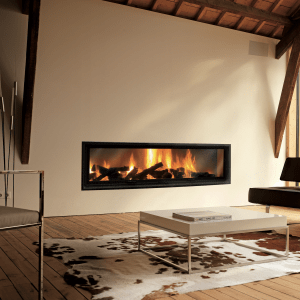 Gigafocus
When a fire wants to spread out and make itself comfortable. The Gigafocus is a truly exceptional model. A union of design that allows this fireplace to expose its flames red-handed in their unbridled optimism.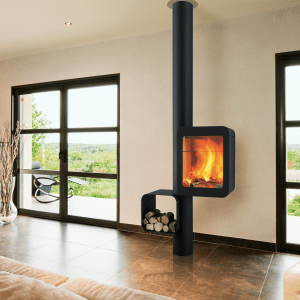 Grappus
Grappus is more than a wood stove: it is a composition that rhythmically structures space, giving the fire the high note. The height of the hearth, counterbalanced by the offset wood rack, makes the stove easy to use and adapts well to any space.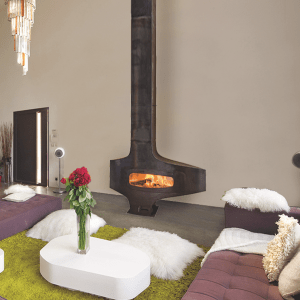 Heterofocus
Sculpted in raw, polished steel with visible welding seams, each Heterofocus is numbered and signed. These unique fireplaces offer exceptional heat output, embodying Focus's aspiration to merge art, craftsmanship and innovation without compromising technical efficiency.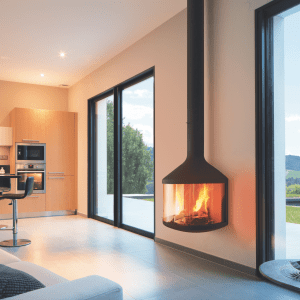 Hubfocus
A close relative of the Optifocus, the Hubfocus floats above the ground, airy, serene and peaceful. Its compact size creates space, and its graceful design allows a 180° view of the fire and reveals the full height of the flames.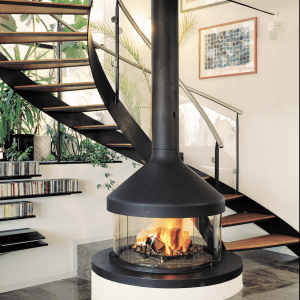 Meijifocus
This model can be installed directly on the floor, mounted on a base of black steel or masonry, or placed at the edge of a split level. With its sliding glass panels, the Meijifocus allows the fire to be viewed in complete security, bringing it within reach of our living spaces.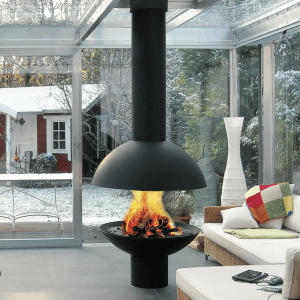 Mezzofocus
Pride of place goes to the elegant Mezzofocus: its strong personality makes it the centre of attention. The ultimate focal point of any setting, whether contemporary or rustic, this model invites conviviality. The hood and the base of the Mezzofocus are different sizes, but form a perfect sphere to the eye.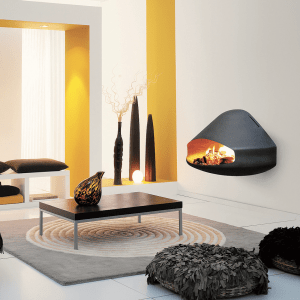 Miofocus
The Miofocus is a wall-mounted wood-burning fireplace with a hidden flue that channels the smoke out from a vent behind the hearth. Its soft shape occupies little space while its smiling mouth provides warm-hearted flames or fiery kisses on demand …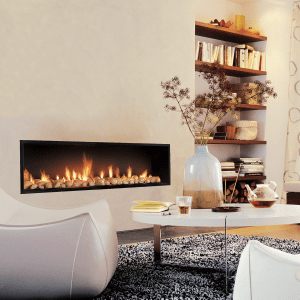 Neofocus
The Neofocus widens the horizon of fire, letting the flames seek their liberty. This fireplace's talent lies in enlivening the flatness of a wall. In both its versions, wood-burning or gas-burning, and two different widths, this model has taken a prize position in our range.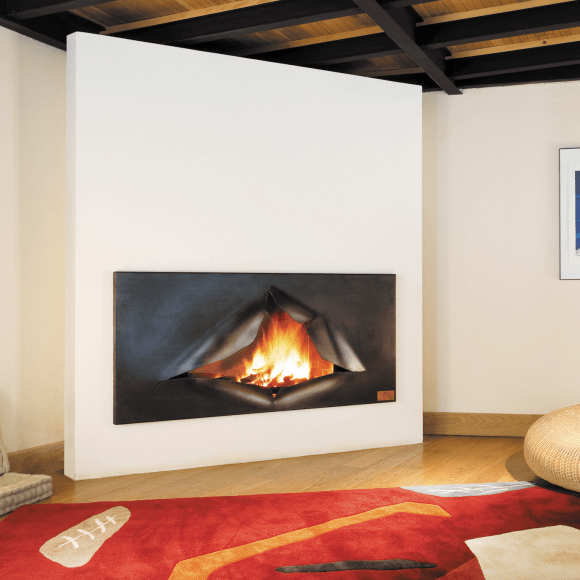 In its challenge to unoriginal interior spaces, the Omegafocus is a celebration of art and function. This high-performance fireplace is transformed to an arresting sculpture by a façade of ripped steel, ingeniously linking creativity and comfort.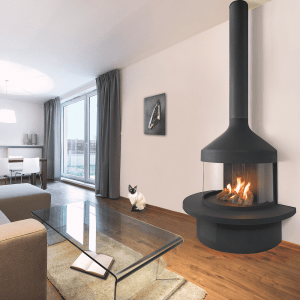 Optifocus
The Optifocus is a model that boasts several appealing features: an extended hearth shelf, a base that doubles as a wood storage space, a heat recovery system, and curved sliding glass panels that allow optimal visibility of the fire, whether open or closed.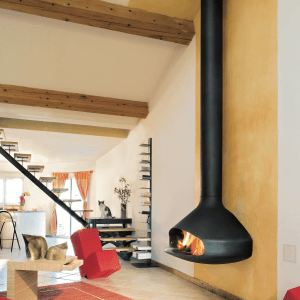 Paxfocus
The wall version of the Ergofocus, this classy and space-saving design beat international competitors to gain a contract in Japan for installation in 301 apartments in a luxury residential building.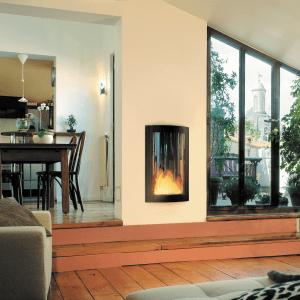 Pictofocus
The Pictofocus allows the fire to embrace its public. The quiet power of simplicity guides the design philosophy of this model. Its innovative, elegant lines avoid any distraction so the fire can take centre stage.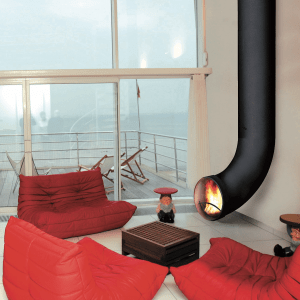 Renzofocus
Indeed, the Renzofocus is a perfectly judged balance of whimsy and genius. The aesthetic daring of the Renzofocus gives it an unequalled presence in a room. Available in fixed or pivoting versions with a uniquely visible personality.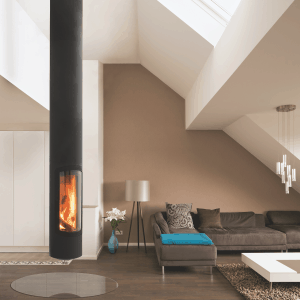 Slimfocus
The Slimfocus is a periscope of flames. Its hearth is either suspended or supported by a base and fixed in place. Its streamlined shape takes up little space, whether it is positioned centrally in a room, near a wall or in a corner.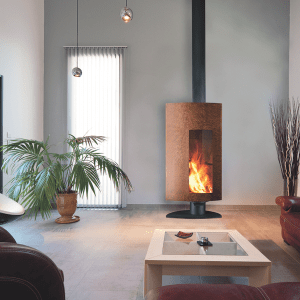 Stofocus
'Efficient, innovative, bold, impertinent' are the unreservedly winning descriptions of the Stofocus. The models' sober contemporary design is wedded to state-of-the-art technology.
For Quality, Personalised Service
and Specialist Advice
Call Us:
Helston – 01326 572878
 Truro – 01872 520010
Quality, Personalised Service
If you choose a Wendron Stoves engineer to install your stove then you have the confidence that he is HETAS qualified. As such, his work is guaranteed and safe.
Specialist Advice
We have worked in the stove industry for over 30 years, so we like to think we have intimate knowledge of our industry.
So when you come to us for help, you can be assured that we will give you the highest quality advice together with superb customer service.