HWAM 3120
Wood Stove
Give in to the fascination of the dancing flames from HWAM 3120m. The curved glass in the door of the stove invites the family to enjoy the view of the flames from many angles in the room…
The elliptical shape gives HWAM 3120m an attractive, light expression.
Form and finish throughout make it possible to install the stove in a corner, on a straight wall and even in the centre of the room.
HWAM 3120m can be supplemented with a rotating plinth so that the flames can be enjoyed from all angles.
This variant is also available in white with the modern door.
OPTIONS

HWAM 3120c – classic side hinged door
HWAM 3120m – modern side hinged door
HWAM Autopilot IHS™ 
HWAM Autopilot IHS™ is available as internal fitting in this HWAM wood-burning stove.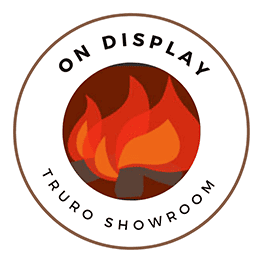 TECHNICAL DATA
HWAM Autopilot: Yes
HWAM Autopilot IHS: Yes
Capacity (kW): 2-7
Nominal heat output (kW): 4,5
Smokeoutlet, Ø (mm): 150
Chimney draught, recommended (Pa): 12
Combustion chamber width (cm): 33
MEASUREMENTS
Height (cm): 100,5
Width (cm): 47,9
Depth (cm): 41,4
Weight
Weight (kg): 104
Weight, soapstone top plate (kg): 114
Heat-retaining stones (kg): 32
Weight pedestal(kg): 11
PRICES FROM
£2,445.00 inc VAT

For Quality, Personalised Service
& Specialist Advice Call Us:
Quality, Personalised Service
If you choose a Wendron Stoves engineer to install your stove then you have the confidence that he is HETAS qualified. As such, his work is guaranteed and safe.
Specialist Advice
We have worked in the stove industry for over 30 years, so we like to think we have intimate knowledge of our industry.
So when you come to us for help, you can be assured that we will give you the highest quality advice together with superb customer service.