The Woody Eco (Multi-fuel)
Wood Stove
The slim eco stove with big world views and a captivating dual nature.
If you have a big space in your life and you want to burn both wood and solid fuel, then this multi fuel version of Woody is the one for you. This stove allows you to reduce emissions and breath cleaner air but to have the choice of the fuel that you choose. Like its eco brother it is generously proportioned, yet slim, efficient, clean burning and quietly, modestly, magnificent.
TECHNICAL DATA
Nominal Output: 5kW
Efficiency (wood/smokeless fuel) 83%/87%
Multi-Fuel: Yes
Smoke Control Kit Included: Yes
Colours Available: Yes
Max Log Length: Wood 400mm Smokeless N/A
Flue Collar Diameter 127mm
Flue Size Required: Min 125mm
Flue Size Required With Smoke Control Kit min 125mm (5")
MEASUREMENTS
Height 584mm Width 565mm Depth 293mm
Height With Plinth 780mm
Clean burn & air wash system
The Woody Eco (Multi Fuel) is 83% efficient on wood and 87% efficient on anthracite, with similar particulate emissions, well within the 2022 Ecodesign requirements.
Like its eco brother, this stove also has secondary heat retaining glazing, with air wash and a landscape view of the fire. It also has the new Chilli Penguin handle.
PRICES FROM
£1,600.00 inc VAT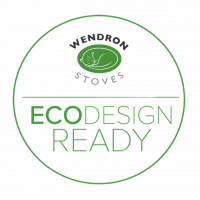 For Help or Advice About Any of Our
CHILLI PENGUIN Wood Stoves
Call Us: 01326 572878
Quality, Personalised Service
If you choose a Wendron Stoves engineer to install your stove then you have the confidence that he is HETAS qualified. As such, his work is guaranteed and safe.
Specialist Advice
We have worked in the stove industry for over 30 years, so we like to think we have intimate knowledge of our industry.
So when you come to us for help, you can be assured that we will give you the highest quality advice together with superb customer service.