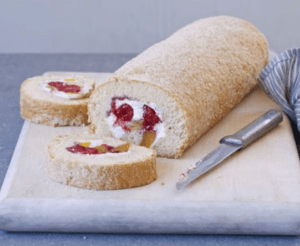 Ingredients
13"-9" Swiss roll tin lined with baking parchment
4 eggs
4oz caster sugar
4oz flour
4tbsp strawberry jam
300ml double cream-whisked to soft peaks
8oz strawberries-cut into pieces
Method
Whisk the eggs and sugar to the ribbon stage, sift the flour over the mix and gently blend together, pour the mixture into the tin and level, bake on the grid shelf on the middle runners in the oven for approx eight minutes until golden and soft to touch.
Turn onto a sugared tea cloth and remove the baking paper, cover with the remaining cloth to cool.
Spread the jam onto the sponge followed with the cream and strawberries. Roll up from the shorter end. Chill and serve.
Everhot set at 220c