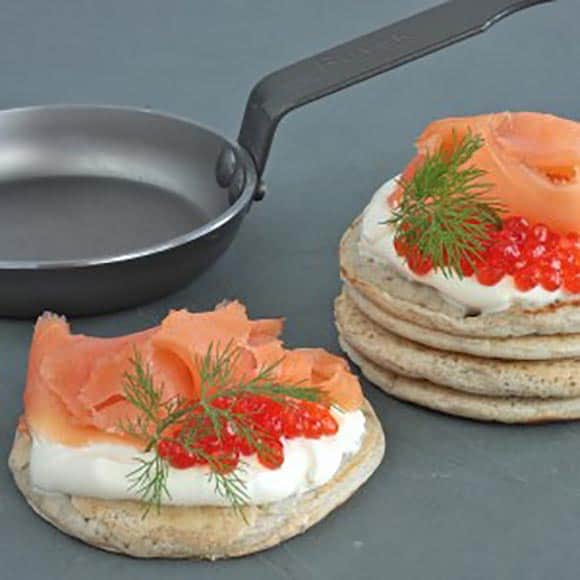 Ingredients needed (Makes 6)
125g buckwheat flour
45g plain flour
pinch of salt
1 tsp dried active yeast
1 egg, beaten
250ml lukewarm milk
2 tbsp olive oil
200ml crème fraiche
250g smoked salmon
50g salmon caviar
Sprigs of fresh dill
Blinis are very easy to make and the raising agent used is dried yeast. They taste so much better than the shop bought blinis and can be made in advance and frozen – just defrost, spread out on a baking tray and warm through in a hot oven for approximately 4 minutes.
Serve for breakfast or brunch with a glass of bubbly or a shot of vodka. They are also delicious served with sweet toppings. Try dollops of sour cream, topped with fruity cherry preserve or Greek yoghurt, drizzled with honey and sprinkled with chopped nuts.
Method
Sift the flours into a large bowl and stir in the salt and yeast. Add the egg and milk and whisk to a smooth batter.
Cover and leave for 1 hour to thicken slightly.
Place the blini pan over a high heat and add a little of the olive oil. When hot, pour in 1-2 tablespoons of the batter to cover the bottom of the pan.
Cook over a high heat until bubbles appear on the surface of the blini and the underside is golden brown. This should only take about a minute.
Flip over and continue to cook until the other side is golden brown.
Repeat this process to make the other blinis.
Leave to cool slightly before topping with crème fraiche, smoked salmon, salmon caviar and sprigs of dill.
For Help or Advice About Any of Our
Wood Stoves or Cookers

Call Us: 01326 572878
Quality, Personalised Service
If you choose a Wendron Stoves engineer to install your stove then you have the confidence that he is HETAS qualified. As such, his work is guaranteed and safe.
Specialist Advice
We have worked in the stove industry for over 30 years, so we like to think we have intimate knowledge of our industry.
So when you come to us for help, you can be assured that we will give you the highest quality advice together with superb customer service.