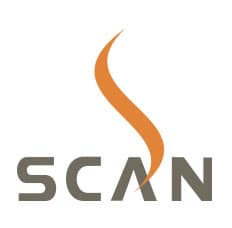 SCAN 87 Floor
Wood Stove
Sometimes you want go "all in". Scan 87 is a large stove that gives you lots of heat, a heavy and solid impression and becomes the natural focus of the room. The series consists of two variants; Scan 87-1 which stands as a solid bauta on the floor and the wall-mounted variant Scan 87-2 which serves flames almost picturesquely floating. The gaze is naturally drawn to the eye-catching glass guillotine door that presents the flames in a bright combustion chamber with 160 degree vision. The distinct, curved joints in the construction and the smoke colored glass details; with the cool glass handle and the rounded ash lip, offer design and functionality fused together. With a sharp focus on details, the series is well balanced between aesthetics and practical use; the air control is both intuitive and beautiful and emptying the ash is done very easily with the large ash bucket in the bottom of the combustion chamber, just lift it up and carry it away. The result is a captivating piece of furniture that is created to look good in your home, with or without flames.
INFORMATION
Closed Combustion
Clean Burn
External Air intake
Guillotine door
160˚ view of flames
Options
Stove colour: Black Only
Heat accumulating stones
Gallery:
For Help or Advice About Any of Our
SCAN Wood Stoves
Call Us: 01326 572878
Quality, Personalised Service
If you choose a Wendron Stoves engineer to install your stove then you have the confidence that he is HETAS qualified. As such, his work is guaranteed and safe.
Specialist Advice
We have worked in the stove industry for over 30 years, so we like to think we have intimate knowledge of our industry.
So when you come to us for help, you can be assured that we will give you the highest quality advice together with superb customer service.