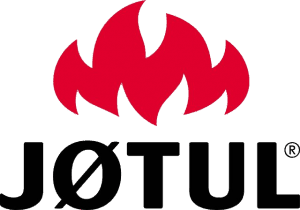 JØTUL F 3
Timeless bestselling log burning stove
The Jotul F 3 log burning stove has been a favourite for many years and is still one of Jøtul's best selling wood stoves.
The wood stove has a horizontal format which provides a spacious combustion chamber for larger logs.
The design is easy to appreciate and can easily be combined with many different interior styles. The glass door provides a perfect view of the burning logs and an external ash removal solution ensures easy removal of the ashes.
This is hidden by a practical ash lip that catches sparks or ashes if they fall outside the door, in an efficient way.
This is a compact wood stove that is well suited for low effect heating, while it is also strong enough to handle periods of strong cold.
Jotul F 3 is available with both enamelled and painted surface. An enamelled surface is maintenance free, easy to keep clean and keeps looking good even after many years of use.
TECHNICAL SPEC
Heating capacity:Maks 100 m2
Heating capacity:Maks 225 m3
Approx weight:124 kg
Log size:40 cm
Flue Outlet:Ø 150 mm
Flue exit options:Top, Rear and Sides
EFFECT
Min output:3,4 kW
Nom output:6 kW
Max output:9 kW
ACCESSORIES
Ash solution:Yes
Riddling grate:No
For Quality, Personalised Service
& Specialist Advice Call Us:
Quality, Personalised Service
If you choose a Wendron Stoves engineer to install your stove then you have the confidence that he is HETAS qualified. As such, his work is guaranteed and safe.
Specialist Advice
We have worked in the stove industry for over 30 years, so we like to think we have intimate knowledge of our industry.
So when you come to us for help, you can be assured that we will give you the highest quality advice together with superb customer service.