Blinis are very easy to make and the raising agent used is dried yeast. They taste so much better than the shop bought blinis and can be made in advance and frozen – just defrost, spread out on a baking tray and warm through in a hot oven for approximately 4 minutes.
Serve for breakfast or brunch with a glass of bubbly or a shot of vodka. They are also delicious served with sweet toppings. Try dollops of sour cream, topped with fruity cherry preserve or Greek yoghurt, drizzled with honey and sprinkled with chopped nuts.
To make this size of blini, you will need a heavy 12cm blini pan which is available from Wendron Stoves. Please call us on 01326 572878 or pop into our Truro showroom where our friendly staff will be happy to help you.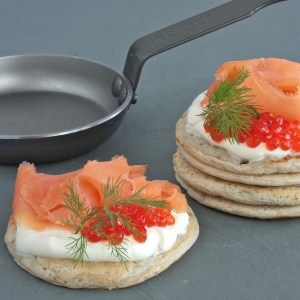 Makes 6
125g buckwheat flour
45g plain flour
pinch of salt
1 tsp dried active yeast
1 egg, beaten
250ml lukewarm milk
2 tbsp olive oil
200ml crème fraiche
250g smoked salmon
50g salmon caviar
Sprigs of fresh dill
Method
Sift the flours into a large bowl and stir in the salt and yeast. Add the egg and milk and whisk to a smooth batter.
Cover and leave for 1 hour to thicken slightly.
Place the blini pan over a high heat and add a little of the olive oil. When hot, pour in 1-2 tablespoons of the batter to cover the bottom of the pan.
Cook over a high heat until bubbles appear on the surface of the blini and the underside is golden brown. This should only take about a minute.
Flip over and continue to cook until the other side is golden brown.
Repeat this process to make the other blinis.
Leave to cool slightly before topping with crème fraiche, smoked salmon, salmon caviar and sprigs of dill.
Mineral B 12cm blini pan*
* Available from our Truro showroom
Recipe and photo by Look to Cook.